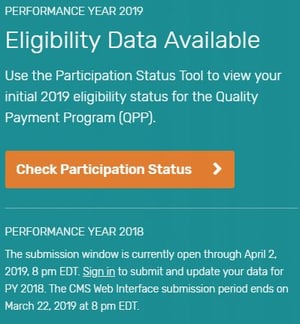 We rely on the QPP Eligibility inquiry tool to help us decide how to submit data on over 6,000 physicians for whom we manage MACRA data. Recently, we have observed errors in the QPP inquiry data which could create significant problems, if not corrected by CMS. Accordingly, we have contacted the QPP and APM help desks and opened tickets. Those issues, and their current status are identified in this blog posting.
We will update this content as new information comes available.
02/28/2019 - Tickets with QPP help desk still open. Test cases still show errors.
02/13/2019 - Provider connections to ACO are incorrectly stated. APM help desk ticket #CS0205844 opened, as well as QPP help desk ticket #CS041675. Nature of problem:
1. If a provider is part of an Advanced APM and also participates in clinics not part of an ACO, that provider will be shown to be a QP in every clinic (even if the clinic is not ACO affilitated). The incorrect implication is that such providers would not be required at all to submit MIPS.
2. Some providers who are part of an ACO are not appearing as such in the QPP inquiry, and show up as "MIPS Providers". This implies that the provider would not be covered under the associated ACO's annual CQM filings. Any such provider would be required to file their own CQM and CPIA scores.
02/11/2019 - Advanced APM downloadable QP status differs from online inquiry. Advanced APMs are capable of downloading a spreadsheet containing QP / Partial QP / MIPS status of all providers in Advanced APM. However, we have noticed significant discrepancies (about 13%) between the spreadsheet and the online inquiry. We are currently following up with CMS.
We will be tracking these issues, and provider updates when available as a part of this blog posting.
Note that while this topic is pertinent to everyone, it is most relevant to groups for whom at least some providers have ACO involvement. For more information, see our background topic on MACRA and ACO.